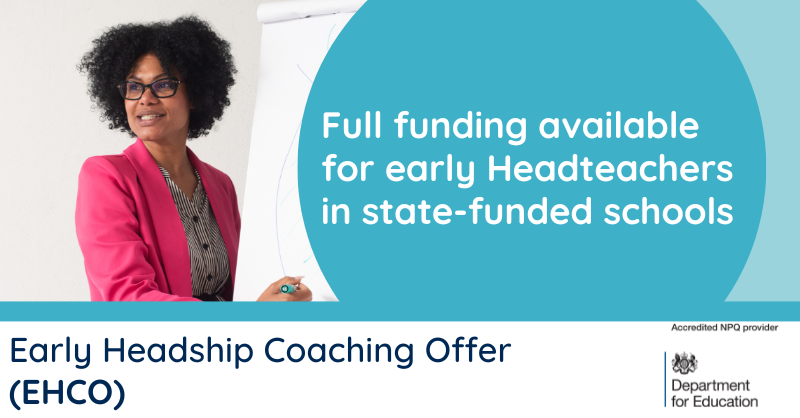 "This is an invaluable opportunity that offers new headteachers access to support and allows them to build on their NPQH at a crucial time in their new headship journey."

Early Headship Coaching Offer for New Headteachers
The Early Headship Coaching Offer for headteachers provides coaching, peer networking and access to the latest research on school leadership to support each participant through the challenges of their first five years in a headship role.
Participants receive one-to-one coaching from a leadership coach who will help to address challenges being faced by the school. Our experienced leadership coaches are ideally placed to offer insights into early headship.
"Evidence shows that support is more effective when tailored to the needs and context of the Headteacher''
Outstanding Leaders Partnership is a DfE accredited national provider of the National Professional Qualification for Headship (NPQH). Our rich library of headteacher resources, made up of the latest research into school leadership as well as podcasts and practice pieces, builds on the ten priority content areas of the NPQH and the Headteachers' Standards (2020) domains and so is specifically focused on those in headship.
Our programme is tailored to the needs of the individual participant. Participants choose a preferred pathway with access to elements from the areas below:
1 – Coaching conversations (one to one and/or small group)
2 – Expert-led conversations - phase and context-specific: headship framework area content.

• School leaders powerful conversation
• Expert insights - headship core business, e.g. wellbeing for headteachers, governance, finance, HR, policy and report writing

3 – Peer network support and learning sets
4 – Access to the latest research and resources - including NPQH case studies and self-study modules

Investment in a new headteacher is an investment in school improvement and the wider school community. The Early Headship Coaching Offer for headteachers will enhance, extend and develop your strategic leadership skills and understanding, instilling a research-led and evidence-based approach.

Areas of focus include:

• Developing school culture

• Teaching

• Curriculum and Assessment

• Behaviour

• Additional and SEND

• Professional Development

• Organisational Management

• Implementation

• Working in Partnership

• Governance and Accountability

• Efficient management of budget and resources

"Core business" recordings and networks will be based on practical and evidence-based solutions.
How is the programme delivered?
During the induction phase of the programme, participants complete a skills audit to help them reflect on the areas they wish to focus on based on the ten NPQH content areas. Outcomes from the skills audit will help identify the support each participant receives. By tailoring the programme in this way, participants are ensured that the support provided is relevant to their personal needs, experience and context.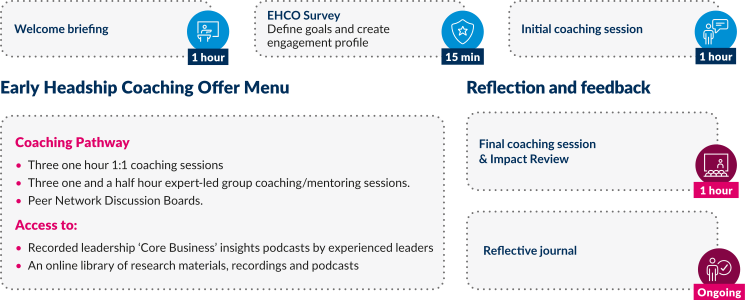 Through conversations with our experienced performance coaches and within each content element of the menu, participants will be able to select from a range of topics such as :
Personal development: exploring your leadership strengths and areas for development
School culture: how best to establish an inclusive and supportive school culture
School improvement: Identifying strategies for continuous educational and operational improvement
Learning and development: Exploring effective approaches to develop a high-performing team
Behaviour: Best practices for managing pupil behaviour
Curriculum: Organising and teaching the curriculum
Administration: Efficiently and effectively managing your school or trust
Note: programme content is subject to change.
Programme Elements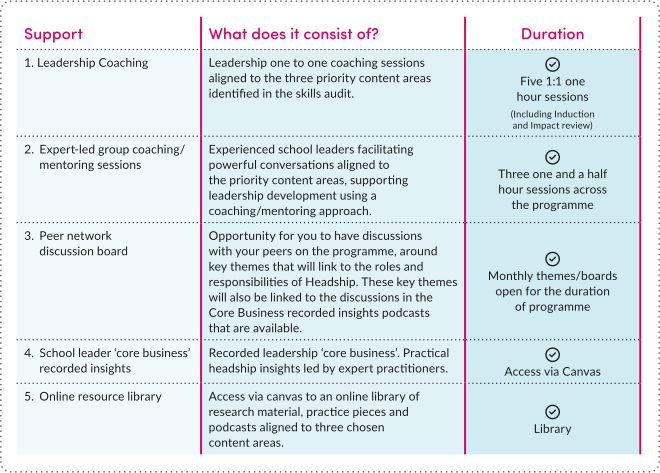 Am I eligible?
You will be eligible for the Early Headship Coaching Offer for New Headteachers if you meet the following criteria:
are in your first 5 years of headship
are employed in a state-funded school, or are employed in a state-funded organisation that offers 16 to 19 places in England upon starting the training
have either completed a National Professional Qualification for Headship (NPQH) before taking up your first headship post or are currently taking the

NPQH
have not withdrawn from the programme previously
The programme is available for all new eligible headteachers regardless of phase or context.
Please note that participants must be serving headteachers within their first five years of headship, the programme is not suitable for deputy headteachers, assistant headteachers or acting headteachers.
What does it cost?
The programme is free providing you meet the following criteria:
are in your first 5 years of headship
are employed in a state-funded school, or are employed in a state-funded organisation that offers 16 to 19 places in England upon starting the training
have either completed a national professional qualification for headship (NPQH) before taking up your first headship post or are currently taking the

NPQH
have not withdrawn from the Early Headship Coaching Offer programme previously