---
What are National Professional Qualifications (NPQs)?
The prestigious National Professional Qualifications (NPQs), already widely recognised and trusted by the sector, are accredited by the Department for Education. They are designed to help you hone and develop the skills you already have, helping you become a more effective school leader and teacher in your school context.
Why Outstanding Leaders Partnership?
Accredited by the UK Department for Education, Outstanding Leaders Partnership, supported by Best Practice Network, is the leading provider of the National Professional Qualifications (NPQs) globally. Our NPQ provision has expanded rapidly across the international schools community with leaders and their schools choosing professional qualification as a driver for improvement and a mark of quality for their workforce.
We were recently rated 'Exceptional' by the DfE's quality assurance agent and voted 'Company of the Year' at the BETT Awards. We are the market leader, and to date have supported over 500 candidates from 60+ countries to access and complete an NPQ.
Reformed National Professional Qualifications (NPQs)
From September 2021, reformed National Professional Qualifications (NPQs) will offer teachers and leaders clearer development opportunities and career progression. These qualifications will build on key areas of the Early Career Framework (ECF), allowing for further specialisation and development of expertise and help prepare teachers and leaders for the next step in their careers.
The reformed qualifications aim to:
help teachers hone and develop the skills they already have, helping them to become more effective leaders inside and outside the classroom and improving overall teaching quality
retain high-calibre teachers by offering clearer development opportunities and career progression
Why Choose OLP?

The Outstanding Leaders Partnership is a national, school-led partnership recently rated as 'exceptional' by the DfE Quality Assurance Agent.
The quality review was based on the DfE National Professional Qualification (NPQ) Quality Framework. The reviewers examined leadership and governance, face-to-face delivery, online courses, candidate, facilitator and tutor support, assessment, organisation, quality control, marketing and recruitment, as well as the DfE metrics and impact. The reviewers identified exceptional performance in most areas of the Quality Framework.
Read the full summary of our DfE Quality Review results here.
"I got the headship! The course was absolutely instrumental in my success at interview – I felt so confident because of my reading and the work we've done on the face-to-face days and projects. Thank you for your support and encouragement – it really helped.""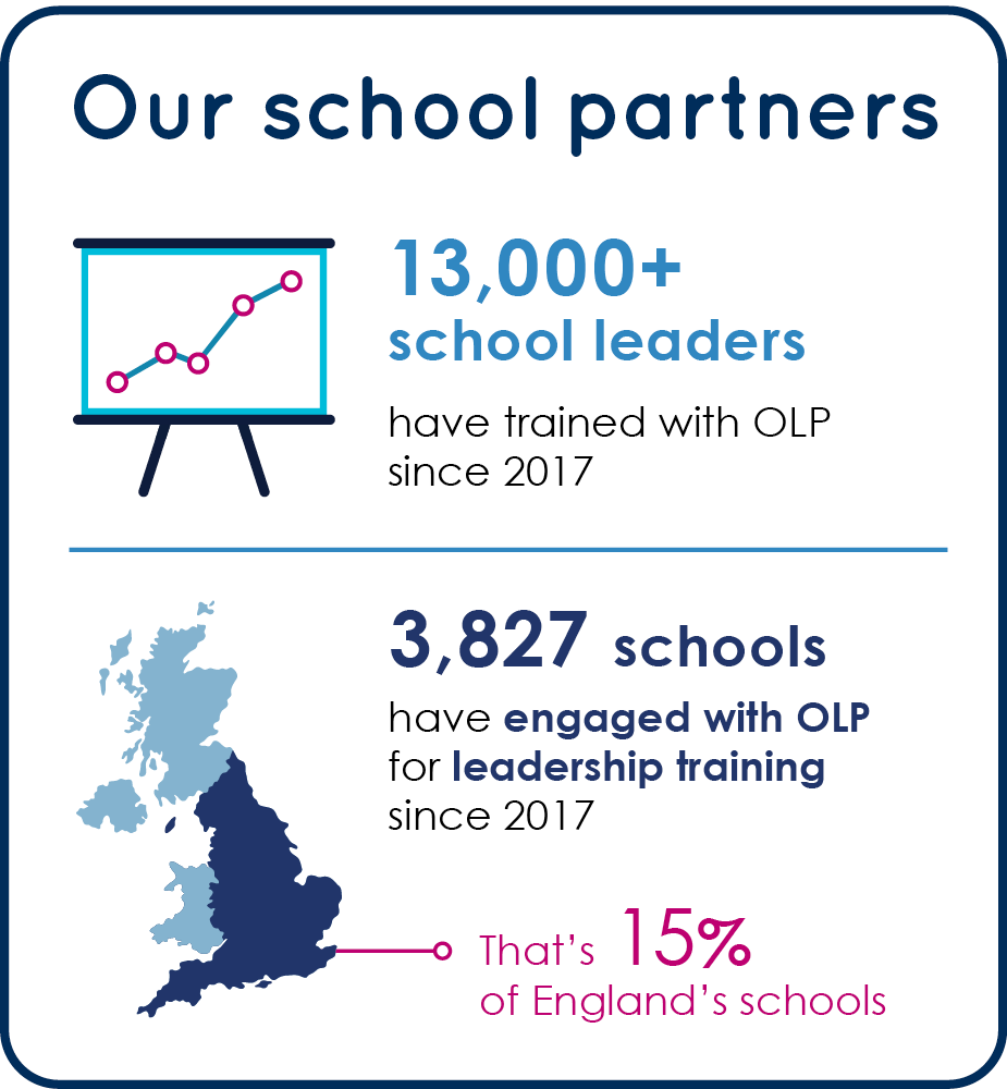 Watch the video below to learn more about Outstanding Leaders Partnership and hear how our qualifications have impacted the careers of teachers and the attainment of pupils.