National Professional Qualification
for Headship (NPQH)
For school leaders who are, or are aspiring to be, a headteacher or head of school with responsibility for leading a school.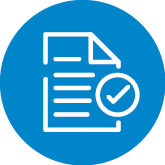 Develop Your Understanding of the Key Concepts Underpinning Successful Headship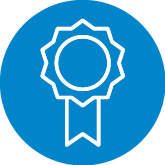 Awards 60 Master's Credits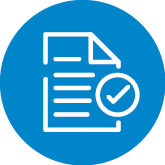 Set an Ambitious School Vision and Establish a Culture in Which Staff and Pupils are Able to Thrive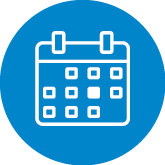 Apply for Autumn 2023

National Professional Qualification (NPQ): Headship
NPQH allows participants to develop the knowledge that underpins expert school leadership and apply it to become an outstanding headteacher.
Benefits for Participants
Increased capability to set an ambitious vision for a school.
Increased knowledge and understanding of what effective headteachers need to know (learn that), and to be able to do (learn how to), to successfully lead both the strategic direction of a school and its operational management.
Opportunities to network with other leaders in order to reflect on the latest research into effective school leadership and to explore practice in other settings.
Choose what to study. Our regular needs analyses support participants to focus their energies on those aspects of their leadership they most wish to develop.
Assessment tasks that involve professional enquiry into relevant aspects of your school's current practices.
Flexible delivery arrangements according to needs and circumstances e.g. provision for staff who work part-time.
The NPQH qualification is aligned to Masters credits and can act as a springboard on to Liverpool Hope University's MA in Leading in Education or the MBA in Educational Leadership.
Benefits for Schools
A leader who has a sound understanding of the complexities of leading a school across each of its domains and is able to confidently lead the strategic direction of a school.
A leader who understands that much of their work involves working though others to achieve the school's strategic goals.
A leader equipped with essential knowledge and understanding of effective practice in both strategic leadership and operational management and the ability to develop these skills in others.
A leader who can lead and establish a culture of professional evidence-based enquiry at all levels in the organisation and guide teachers and other leaders in the development of their understanding of the science of learning
A leader with the skills necessary to orchestrate a school's improvement strategies by providing guidance to other leaders on effective strategies for the implementation of sustainable change.
A leader who shares common understandings and a shared professional language with other leaders within and beyond their school – the 'golden thread' of professional development
How is NPQH Delivered?

A Blended Learning Model
NPQH makes use of a blended delivery model consisting of face-to-face events, online study, webinars and coaching.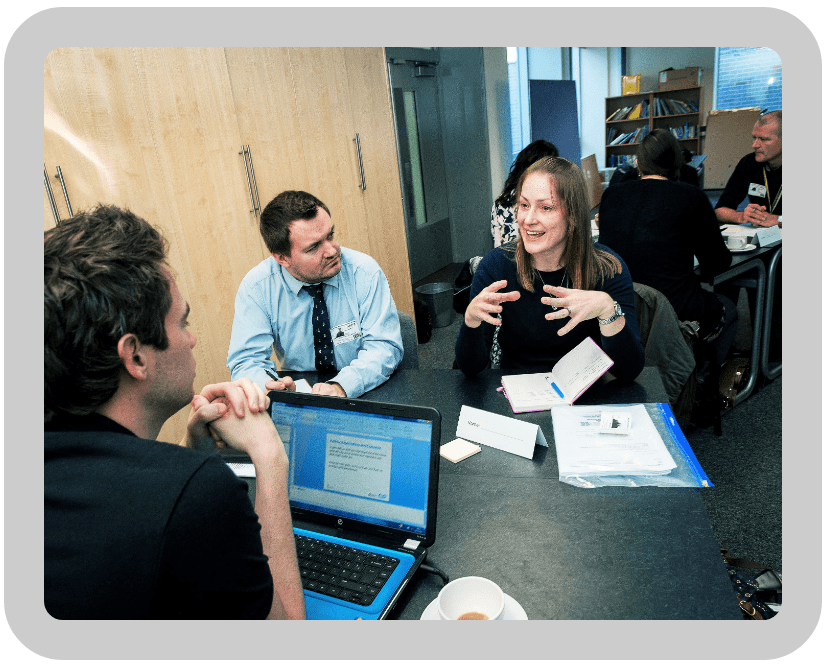 NPQH participants will attend 5 face-to-face events via the blended delivery model. Our nationwide delivery partnership network allows us to bring face-to-face training to a training centre in your region, facilitated by experienced school leaders and facilitators.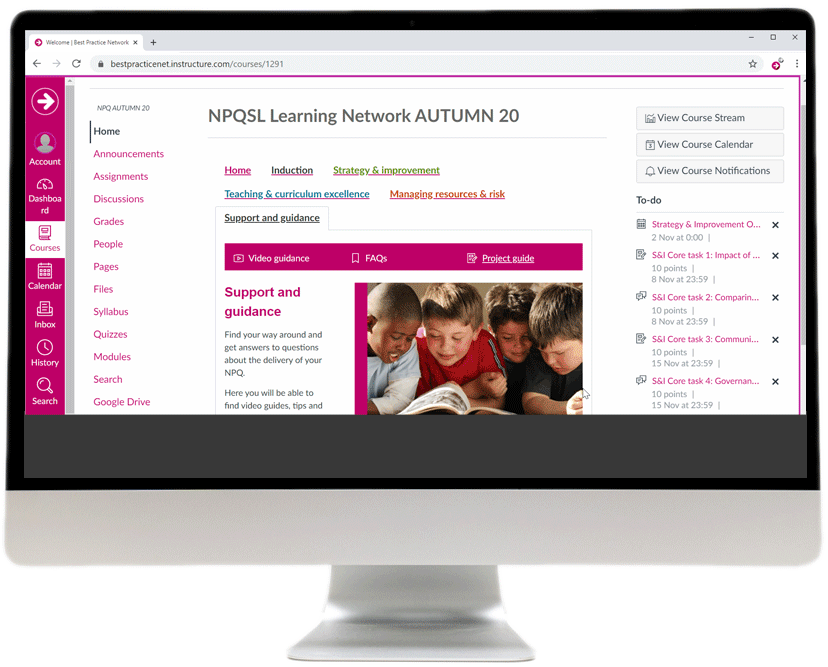 Participants access online learning and support via our virtual learning environment (VLE) Canvas. Through Canvas, participants are able to engage with their learning communities of peers and access multimedia content. They can also access research and expert-led school practice aligned to the curriculum content for the qualification and receive high-quality feedback from experienced performance coaches.
Leadership Performance Coach
The leadership performance coach is a participant's main point of contact for the duration of the NPQH. Their role is to support a participant's progress and development through the programme. They will respond to practice task activities completed for each online course and provide challenge and feedback on each of the formative assessment tasks. Each participant will receive small group and individual coaching sessions from their leadership performance coach to develop their thinking and support their progress.
In-school Sponsor
The in-school sponsor is someone who the NPQH participant can check in with across the duration of the programme and who can provide relevant professional guidance, support and challenge. The sponsor is not a formalised programme role but a go-to person to talk about their learning and development from the qualification and its application in practice. The sponsor may be a leader from another school/organisation.
NPQH Qualification Structure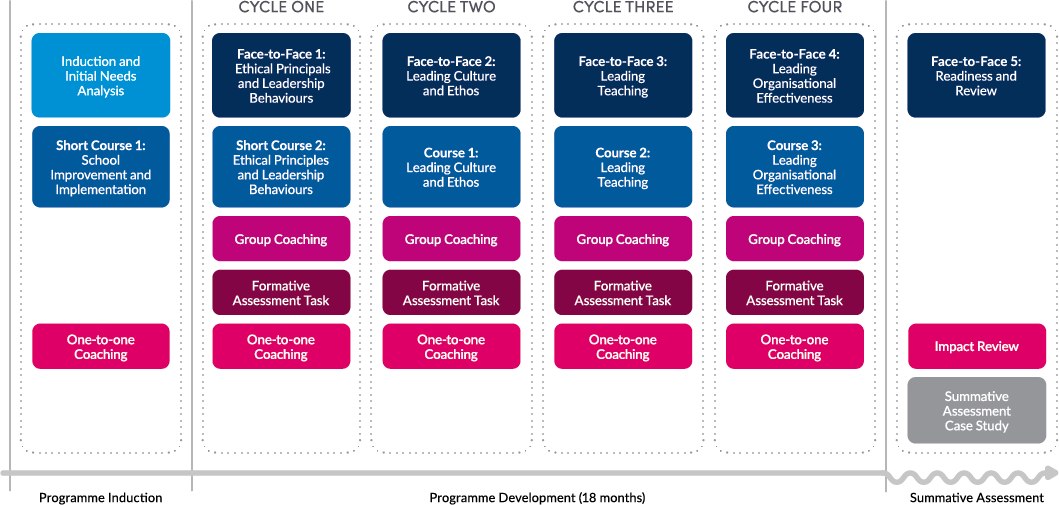 National Professional Qualification (NPQ): Headship Framework
The NPQ frameworks are based on a robust method of design and development, building on the evidence base and expert guidance already established in the ECF and the ITT Core Content Framework. The NPQ frameworks reflect the Teachers' Standards and Headteachers' Standards to ensure coherency with the requirements already used by the teaching profession.
Please see the National Professional Qualification for Headship Framework below. If your computer or device does not support the Adobe plugin you can download the framework pdf here.
Who is this for?
NPQH is suitable for school leaders who are, or are aspiring to be, a head teacher or head of school with responsibility for leading a school.

Although some headteachers and principals still teach, the role is primarily a strategic and operational one and relies on working with and through their colleagues (in particular, through the leadership team) to ensure every pupil gets an excellent education.
Requirements
To be eligible for the NPQ, applicants must:
Have full support from their school/organisation. A head teacher, member of the SLT, line manager or Chair of Governors (or similar authoritative role) must confirm their support and that all information submitted is true and correct. This is a Department for Education mandatory requirement.
Outstanding Leaders Partnership require that applicants should also be able to demonstrate:
QTS, QTLS, a Level 5 (or higher) qualification (any subject), or an international equivalent
Experience as a current headteacher, deputy headteacher, vice principal or equivalent role and about 18 months away from applying for Headship (if not already in post)
If you would like to discuss the above criteria or believe you are suitable but do not suit all criteria, please do contact us at NPQ@bestpracticenet.co.uk
What does it cost?
The National Professional Qualification for Headship (NPQH) costs £1,975 plus VAT if applicable.
VAT will not be applied to DfE funded candidates or state-funded schools.
Candidates from international schools should visit our
NPQH International
page for international prices.
Scholarships
Scholarships have been confirmed for the Autumn NPQ intake as part of the government's long-term education recovery plan.
From autumn 2022, organisations eligible to access scholarships include:
state-funded schools
state-funded 16 to 19 organisations
independent special schools
virtual schools (local authority run organisations that support the education of children in care)
hospital schools not already included in other categories of eligible organisations
young offender institutions
Local authority employed supply teachers will also be able to access scholarships.


Targeted Support Funding
State-funded schools and state-funded 16 to 19 educational settings with 1 to 600 pupils will be paid £200 for each teacher or leader they employ who takes an NPQ.
This is to help teachers and leaders in smaller settings who may find it harder to engage with professional development.
This funding will apply to state-funded schools and 16 to 19 educational settings in England that have between 1 and 600 pupils. It will be paid for each NPQ participant in these eligible settings.
Funding is not available for participants taking the early headship coaching offer unless they are also taking another NPQ course.
If you work in a school you can search the Get Information About Schools (GIAS) database to check how many pupils are recorded for your school.
If you work in a 16 to 19 education setting you can check a list of 16 to 19 organisations eligible for targeted support funding in the academic year 2022 to 2023.
Payments will be grant funded in arrears via existing Education and Skills Funding Agency (EFSA) channels the summer after NPQ participants begin their course. Eligibility for targeted support funding will be determined automatically as participants complete the registration process and there is no need to apply for this funding separately.
Contact continuing-professional-development@digital.education.gov.uk with any questions.
Early Headship Coaching Offer (EHCO)
The Early Headship Coaching Offer (EHCO) is fully funded for new headteachers undertaking NPQH within their first five years of headship. It is also available to headteachers who have previously completed NPQH and are within their first five years of headship.
Further information can be found at www.outstandingleaders.org/early-headship-coaching-offer
Next Steps
We are now accepting applications for the Autumn Intake of the National Professional Qualification for Headship (NPQH).

Headteachers Apprenticeship with NPQH
Stand out from the crowd and complete NPQH whilst simultaneously working towards the Level 7 Senior Leader Standard - a cross-sector leadership qualification which is the perfect accompaniment to the NPQH.
The Headteachers Apprenticeship with NPQH is funded by the Apprenticeship Levy or government co-investment and comes with a whole raft of extra support, resources and content compared with completing a standalone NPQ.
Participants receive added support in the form of monthly meetings with a dedicated Apprenticeship Tutor. Our Apprenticeship Tutors are themselves experienced school leaders and headteachers and are able to offer invaluable assistance and advice for the duration of the programme.
One Programme, Two Qualifications
Graduates of the Leaders Apprenticeships are awarded two qualifications which are completed at the same time and within the same 18 month period as the standalone NPQH. As well as benefitting from the full NPQH content and delivery, participants receive extended leadership training, webinars and monthly meetings with an Apprenticeship Tutor to ensure they meet the requirements of the Level 7 Senior Leader Standard.
Compared to the standalone NPQH, there are approximately 80 additional learning hours spread out over the 18 month duration of the programme.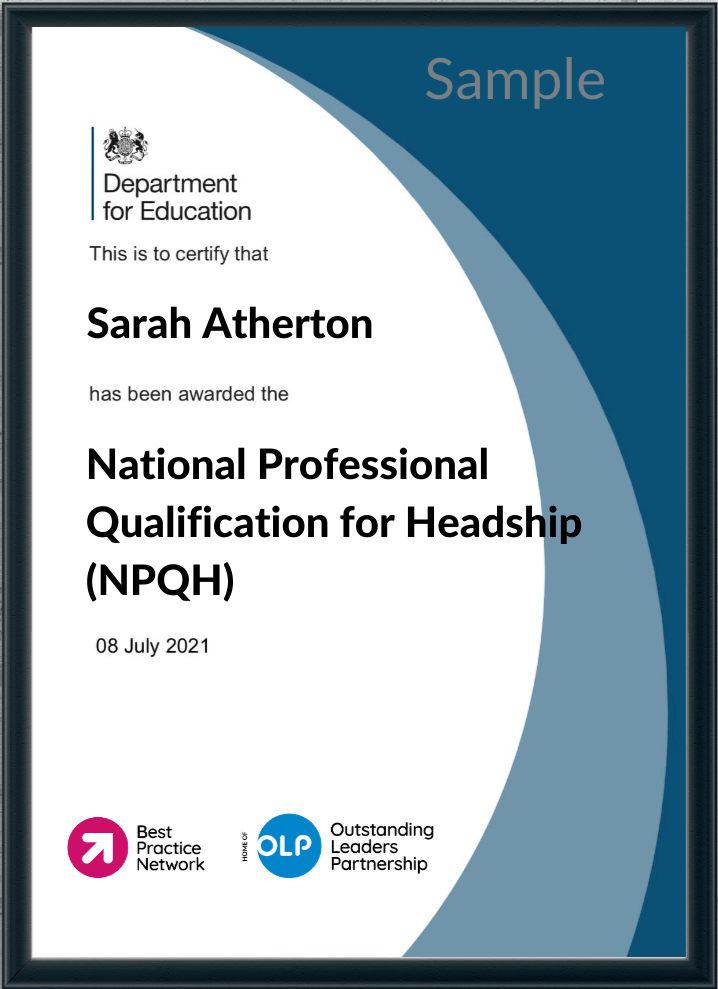 National Professional Qualification for Headship
Professional registration links: NPQH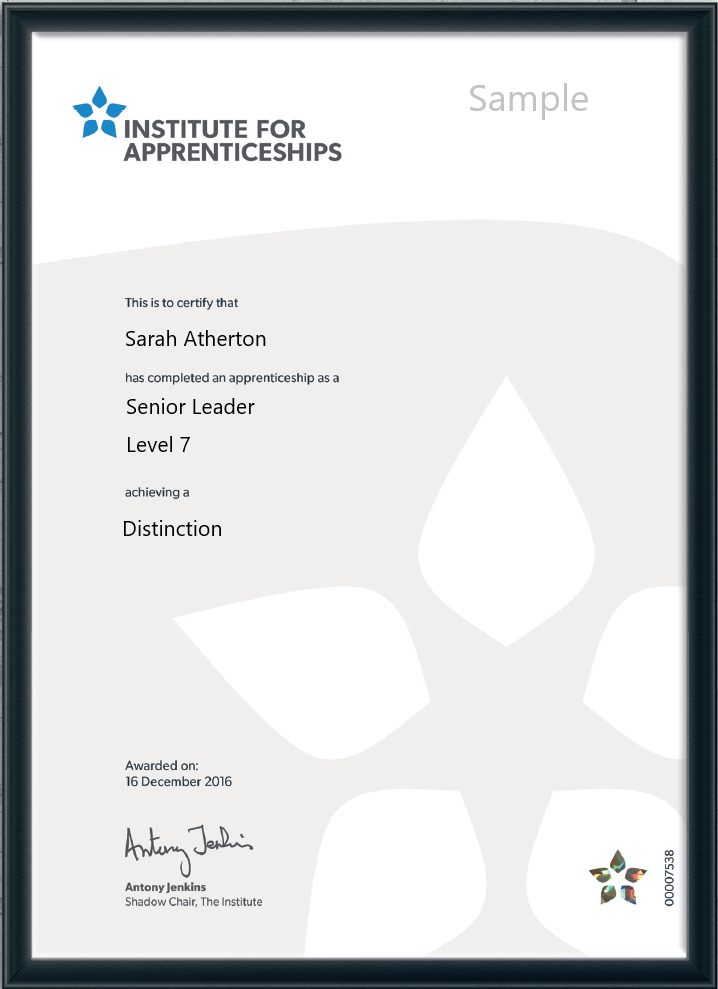 Level 7 Senior Leader Standard
Professional registration links: Chartered Manager (CMgr MCMI) or Chartered Fellow (CMgr FCMI), The Institute of Leadership and Management
Next Steps
To learn more and apply, please visit the page below.