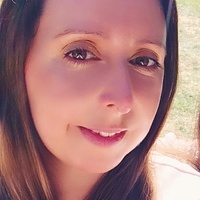 NPQEL Face-to-face Day 3
Posted June 24 2019 Marie Sweetlove
Return to Candidate Blog
View all articles by Marie Sweetlove
"The more that people share decisions affecting their working life, the more they are motivated to carry them out"
― John Adair,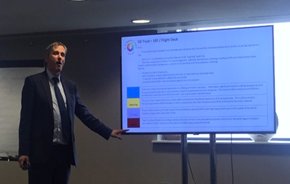 Day 3 Face to Face day was focused on consolidating the Learnings from the strategy and Improvement module, further developing leadership and exploring the assessment tasks in more depth.
We were lucky enough to have a guest speaker, Chris Holmwood who is a Headteacher at Shenley Brook End School, which is part of the 5 Dimensions Trust, based in Milton Keynes. He presented a motivating account of the development of the trust as it grew to form a joint lead with two secondary schools and how their vision for the trust developed coupled with effective business planning. Their vision focused on the importance of growing successful people though establishing partnerships.
The 5 Dimensions trust also leads a successful leadership and training centre which provides training for all schools within the local community. As they developed as a trust the focus was placed on the development of the culture and the kind of trust they wanted to be rather than purely focusing on the outcomes. Chris explained how the model 'Dimensions for change' was useful in exploring how they approached change.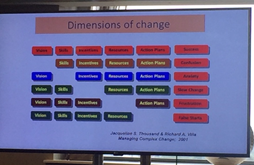 I was really interested in how they used the vision to drive everything, from focusing on the 5 elements of the vision when assessing the trust's progress to strategies for the assessment and the development plan for the trust and the schools within it. They had developed their own language for leadership and framework for judging progression.
It was clear that they had been able to interweave educational strategy with development, improvement and the effective running of a business. Chris was very genuine about what they are trying to achieve and realistic. He explained how it was important to 'Know who they were and what they were about, with a strong emphasis on the need for 'sharing their vision and aims transparently'.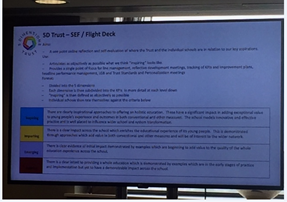 We then went on to explore as a group further models for change, considering how our intended projects for assessment might fit Kotter's model for change. This was an interesting task as for some of these steps had been taken as an intrinsic part of managing change rather than as an intentional step. You can see in the photo below how one group was able to positively link their project to the model and explore each stage in detail.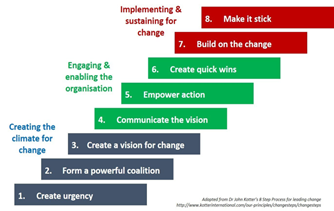 After lunch, we then progressed to explore our own projects further and were provided with more detail on the two assessment tasks. Although a little clearer, I still feel that I need to take the time to explore assessment task 1 which takes the form of a strategic business plan.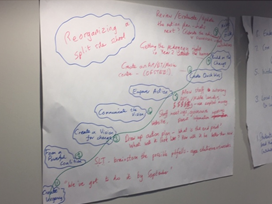 I will keep you updated as I work my way through the assessment tasks, which at present seem a little daunting.