Leaders Apprenticeship with NPQSL
Extension: Pre-application deadline now 30 June. Limited places remaining.
Our market-leading NPQSL qualification has been combined with the Level 5 Operations/Departmental Manager Apprenticeship Standard to offer a dual qualification funded through the apprenticeship levy.
This 15-18 month programme offers leadership training for aspirant and serving senior leaders equipping them with the Knowledge, Skills and Behaviours to lead high-performing teams and deliver sustained improvement.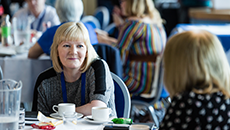 Am I eligible?
Our dual award is for those who are or are aspiring to become, a senior leader with cross-school responsibilities such as an experienced middle leader, a deputy headteacher, a SEN coordinator, an assistant headteacher, or other senior staff member.
Candidates must work a minimum of 30 hours per week and be able to evidence level 2 English and Maths prior to undertaking end-point assessment.
When does it start?
Pre-application is open now for our Autumn 2020 intake.
We are only offering a limited number of spaces on this dual award programme so early application is advised.
How do I apply?
To apply for our dual award please complete our pre-application form.
After submitting your pre-application, a member of our team will be in touch to support you onto the dual award.
Complete pre-application form
Where do I find further information about NPQSL?
Our Senior Leader dual award includes the National Professional Qualification for Senior Leadership (NPQSL). For more information about NPQSL click here.
The Outstanding Leaders Partnership is the leading provider of NPQSL nationally and the quality of our provision is rated 'Exceptional' by the DfE's external quality assurance agent.
You can view our performance against the national metrics here.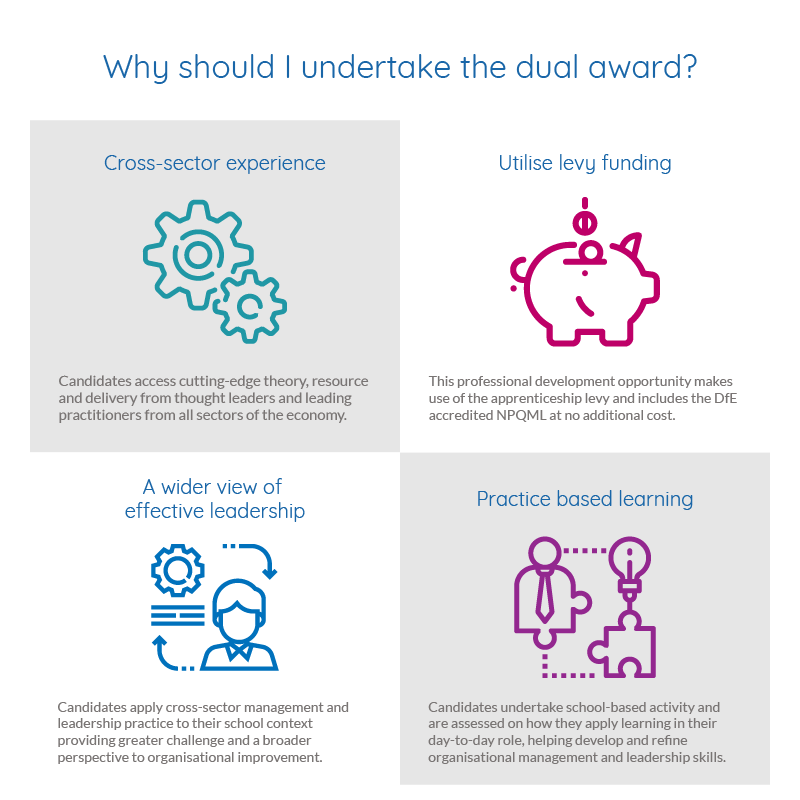 Candidates completing the dual award benefit from:
Increased awareness and understanding of self and of the behaviours needed to lead across a school
Increased capability and capacity to take on a leadership role
Evidence-based sustainable school improvement activity improving pupil progress and attainment, and the effectiveness of teaching
The ability to make informed decisions and approach new challenges in an effective and efficient manner
The ability to review and evaluate practice in order to bring about change and get the best for young people and staff within the organisation
One-to-one support from a dedicated personal tutor including monthly check-ins online & in-person
Time set-aside from your working day to engage in learning
Entitlement to an NUS student discount card
Programme outline
The following timeline shows the key points of engagement for a typical candidate undertaking the dual award.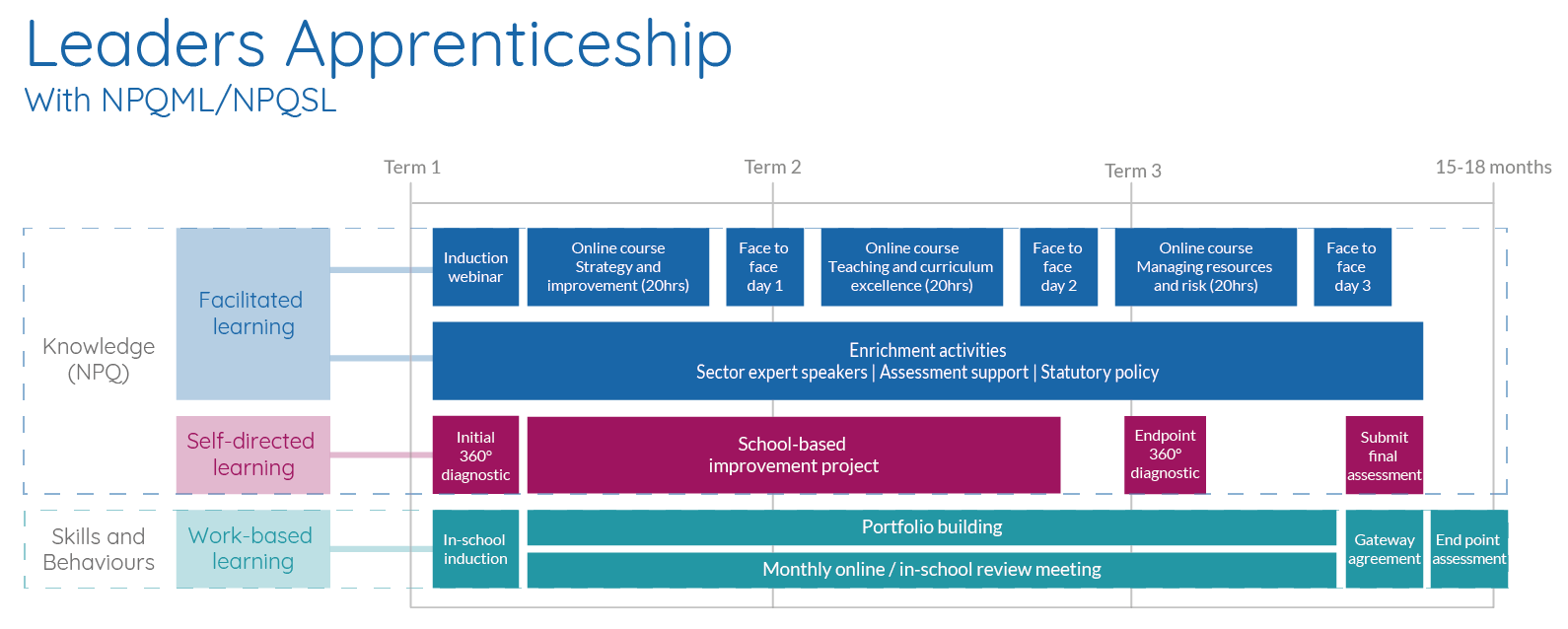 We have carefully developed our dual award programme to be relevant to managers and aspiring managers working in the education sector. We have mapped the content of our NPQML or NPQSL qualifications so they are closely aligned to the knowledge and theory aspects of the apprenticeship standard. In addition, candidates will cover relevant skills and behaviours for the apprenticeship through work-based learning, building their confidence and supporting their career progression.
Delivery includes:
Face-to-face activity delivered locally through our national network of partner schools
Facilitated online courses working alongside peers nationally
One-to-one support from a dedicated personal tutor including monthly check-ins online & in-person
Content individually tailored to the prior skills and knowledge of each candidate
A variety of accompanying enrichment activities including podcasts, live webinars, reading, structured reflection, and project planning.
How do I access the funding?
You can access funding for the Senior Leaders Apprenticeship from your school's apprenticeship levy. Schools will be able to access the funding through their digital apprenticeship service (DAS) account.
If your school needs help setting up your DAS account, just let us know and we'll guide you through it.
If your school is not a levy payer or has exhausted it's levy funds, we will source funding on your school's behalf.
The level of funding depends on each candidate's learning needs, with a maximum allocation of £7,000.
| School type | Accessing Funding |
| --- | --- |
| Levy paying Academies and Trusts | Drawn down directly using your DAS account |
| Maintained schools (LA funded) | Drawn down by the Local Authority from levy fund |
| Non-levy paying schools | Education Skills Funding Agency (ESFA) will fund 95% of the course fee through the 'co-investment' scheme |
Leaders Apprenticeship with NPQML / NPQSL
Apprenticeships are work-based training programmes that are designed to help employers train people for specific job roles.
An apprenticeship can be for new or existing staff at any level of an organisation.
Leaders Apprenticeship with NPQML is suitable for middle leaders with responsibility for a team including Key Stage leaders, subject leaders, and curriculum leaders, and also heads of department or pastoral leaders.
Leaders Apprenticeship with NPQSL is suitable for senior leaders with cross-school responsibilities, for example, an experienced middle leader, a deputy head, a special educational needs co-ordinator (SENCO), an advanced skills teacher or a senior member of staff.
In order to be eligible for a dual award you must:
Work a minimum of a 30 hour week
Be a resident of the UK
Have 5 GCSE's at Grade C (4) or higher including English and Maths. Or be able to achieve Level 2 English and Maths during study
Between 12 and 15 months.
Nationally recognised Level 5 apprenticeship standard
National Professional Qualification for Middle or Senior Leadership (NPQML or NPQSL)
Credits toward an MA in Educational Leadership
Option to become a member of the Chartered Management Institute, and those with 3 years of management experience can apply for Chartered Manager status through the CMI
The majority of the training and assessment for the apprenticeship will be completed at your workplace and recorded through an e-portfolio of evidence. Your Apprenticeship Tutor will observe you in the workplace and guide you on which pieces of work-based evidence are suitable for your portfolio.
Delivery will also include three training events offsite, three 4-week facilitated online courses and a series of online briefings and webinars.
Throughout your apprenticeship, you will have monthly remote visits and three-monthly face-to-face visits with your Apprenticeship Tutor to carry out reviews and observations and to support you and your employer.
Drive sustainable improvement through focussed in-school activity
Gain access to cutting-edge theory, resource and delivery from thought leaders and leading practitioners from all sectors of the economy
Undertake a national qualification contextualised to your locality
Funded through your apprenticeship levy
A dedicated Apprenticeship Tutor to support you and your school
Support to gain and evidence skills and behaviours in the workplace
Bring learning together through an ePortfolio of evidence
Off-the-job training is about upskilling an individual to reach full occupational competency, not accrediting their existing skills.
Off-the-job training must make up 20% of the apprentice's normal working hours over the planned duration of the apprenticeship and can be delivered flexibly.
Off the job training includes (but is not limited to):
External training events
Interactive online learning
Research
In-house CPD
Project activity
Networking and moderation events
Shadowing
Reflective learning
Time writing assignments
Coaching and mentoring
Learning support
We will discuss this with every employer and apprentice when setting up the individual learning plans at induction.
The NPQ element of the dual-award will account for the lion's share of the knowledge (theory) training requirement. The rest is acquiring workplace skills and behaviours, so largely a focus on shadowing, mentoring and any work place activities that bring new learning.
The following timeline shows the key points of engagement for a typical candidate undertaking the dual award.

Candidates undertaking the standalone NPQs are expected to complete three face-to-face events, three facilitated four-week online courses, project work, and regular support webinars.
In addition to the above, candidates completing the dual-award will receive further support to develop particular skills and behaviours relating to the apprenticeship standard. The additional support includes:
Ongoing dedicated support from an apprenticeship tutor
Quarterly school visit
Monthly online review and support meetings
Collation of an e-portfolio of learning
Gateway meeting to assess readiness for endpoint assessment
Endpoint assessment
NPQML Final Assessment
Leading an improvement project (4,500 words)
Candidates must lead an improvement project within their team, lasting at least two-terms, to a) improve pupil progress and attainment b) the capability of their team.
NPQSL Final Assessment
Leading an improvement project (5,000 words)
Candidates must lead an improvement project across their school, lasting at least two terms, to a) reduce variation in pupil progress and attainment and b) improve the efficiency and effectiveness of teaching.
Level 5 Apprenticeship (End Point Assessment)
Assessment of knowledge through a test using scenarios, questions and responses
Assessment of competency through a structured competency-based interview
Assessment of portfolio of evidence
Presentation on a work-based project with Question and Answer session
Continuing Professional Development Log reviewed and professional discussion
The majority of the apprenticeship training takes place in your workplace. Face-to-face training events will fall alongside our stand-alone NPQ courses ensuring a wider availability of local groups.
Delivery venues are largely provided through our national network of teaching school and multi-academy trust partners. Candidates applying from one of our partner groups will be allocated to that group for face-to-face events.*
In addition to partner groups, we also have a number of groups located according to the geography of the candidates that register, helping minimise travel time for the majority of candidates.
Candidates not registering through a school partner will be allocated to their most geographically convenient group for the three training events.
Our face-to-face groups take place across the country and we strive to ensure all candidates have access to local delivery.
You can view a map of our most recent groups locations here: www.outstandingleaders.org/npq-groups
* Subject to group viability
The levy is paid by large employers with a wage bill of over £3 million. These employers pay 0.5% of their total annual pay bill into the levy. Most state-maintained schools and multi-academy trusts pay into the levy.
The levy is designed to create long term sustainable funding for apprenticeships and to give employers more control to provide their staff with a range of training opportunities.
If your school is non-levy payer or has exhausted its levy funds then you can still access a funded apprenticeship. Please contact us if you would like more information
| School type | Accessing Funding |
| --- | --- |
| Levy paying Academies and Trusts | Drawn down directly using your Apprenticeship Service Account |
| Maintained schools (LA funded) | Drawn down by the Local Authority from levy fund |
| Non-levy paying schools | Education Skills Funding Agency (ESFA) will fund 95% of the course fee through the 'co-investment' scheme |