BPN wins 'Company of the Year' award at Bett Awards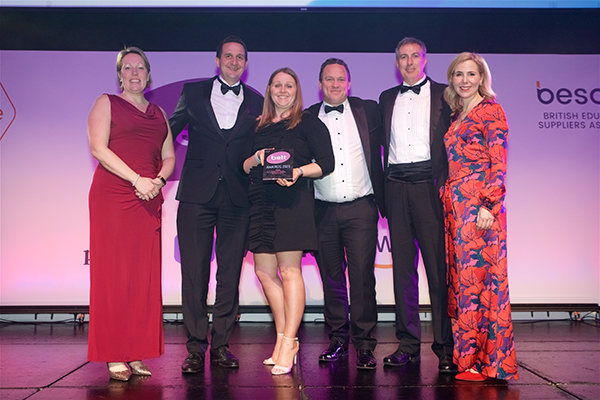 BPN wins 'Company of the Year' award at Bett Awards
Best Practice Network (BPN) has won the Company of the Year award at the 2020 Bett Awards in London.
The Bristol-based business - one of the UK"s largest providers of professional development and support for education professionals - picked up the prestigious award in London on Wednesday evening.
The Bett Awards are part of the annual Bett Show, the world's leading showcase of education technology solutions. The awards judges praised the business, saying that it was "providing high-quality programmes to schools".
Managing director Simon Little said that the company was "incredibly honoured" to receive the award. "It's been a special year for Best Practice Network," he said. "The rapid expansion of our partner network and the outstanding recruitment of candidates onto the programmes we offer means that we've been able to make a real difference to the capacity and capability of thousands of leaders, their schools, the pupils they support and the communities they serve."
He added: "The impact and effectiveness of our online and face-to-face training is paramount to our success. We'd like to thank all of our facilitators, tutors, coaches and our support team who strive to improve the practice of teachers and school leaders every day."
Best Practice Network supports the Outstanding Leaders Partnership (OLP) - a national partnership of teaching school alliances, multi-academy trusts, dioceses and research partners - that delivers the National Professional Qualifications for school leaders. Over 15 per cent of England's schools have engaged with OLP for leadership training since it was set up by BPN in 2012. Last year the Department for Education rated OLP as exceptional overall following a quality review.
The Bett Awards judging panel noted this, adding: "The external review demonstrates clearly that the organisation is providing high-quality programmes to schools.
"(BPN's) growth, particularly into international schools, indicates that their reputation is growing on the back of this and their online and face to face training combination is impressive too."
The Bett Show brings together over 900 companies and attracts 34,000 attendees from more than 140 countries who use the event to find inspiration and discuss the future of education, as well as seeing how technology and innovation helps educators and learners to thrive.
About Best Practice Network
Best Practice Network is one of the UK's largest providers of training, development and support for education professionals. We share the desire of every practitioner that every child, regardless of their background, should benefit from an excellent education. We do this by working in close partnership with practising education professionals to develop and deliver high-quality CPD and qualifications that help school leaders, early years practitioners, business managers, support staff and SENCOs be the best they can be and transform the lives of children and young people. Our comprehensive range of programmes includes the government-approved National Professional Qualifications for school leaders, Early Years Initial Teacher Training and the National Award for SEN Coordination (NASENCO).
Above image shows the Best Practice Network team with their award. From left: Caroline Wright (director general, BESA), Gary Broom (director, marketing, partnerships and development), Sian Marsh (director, early years and ITT), Simon Little (managing director), Dean Boyce (director, CPD and accreditation) and Sally Phillips (awards host, actress, and comedian).