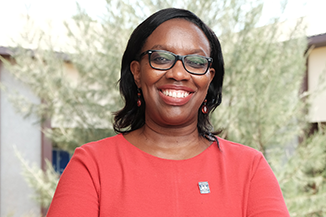 International NPQH - Eliz Dadson case study
Eliz chose Best Practice Network's NPQH for international schools programme after a long period of professional reflection. "I knew that I wanted to lead a school and have a more direct impact in the lives of the young people in my care," she says.
Eliz Dadson is second vice-principal at SOS Hermann Gmeiner International College (SOS-HGIC), an international school with 360 pupils in the port city of Tema, Ghana.
Driven by a desire to use her skills to help children in the country of her birth, Eliz joined the school in August 2019 after 25 years overseas in the UK and the United Arab Emirates. Eliz has been teaching for 16 years.
SOS-HGIC was founded in 1990 by worldwide charity SOS Kinderdorf International to prepare academically able students from SOS Villages across Africa, students from the host country Ghana, and from countries around the world, for tertiary education. Students study for the Middle Years Program (MYP) and the International Baccalaureate Diploma Program (DP) alongside Ghanaian children at SOS-HGIC.
The school aims to help students into top universities around the world, with the hope that they will return with the knowledge and skills that will help solve some of the continent's key challenges.
Eliz chose Best Practice Network's NPQH for international schools programme after a long period of professional reflection. "I knew that I wanted to lead a school and have a more direct impact in the lives of the young people in my care," she says.
"I also knew that while I had gained considerable experience during my career, I did not have all the skills required to take on such an important role. I thought about my readiness for being a head and knew that I needed to acquire more knowledge and understanding before I could become a principal."
She shared her career aspirations with a friend who pointed her to Best Practice Network. "I was very attracted to their distance learning NPQH because it suited my needs at the time," she says. "It offered value for money and would still deliver headship content in an accessible and manageable way while still challenging me. The programme was organised in such a way that I could continue in my current role and not lose significant time out of school or have to travel for face-to-face sessions."
As part of the programme, Eliz completed online modules in strategy and improvement, teaching and learning and managing risks and resources, as well as two school-based projects. One was a whole school change project where Eliz led its design, implementation and evaluation with a focus on raising attainment in the senior school through the use of targeted study skills.
"Leading the whole school project required me to deal and communicate with a range of people and that is a skill I have to draw on regularly in my current role," she says. "I'm making decisions all the time that impact others and not all of them will be popular. The whole school project involved bringing change and doing things differently under my leadership and I have to draw on those skills every day."
Eliz said support from her online tutor and cohort group was "invaluable". "The challenge from my tutor to continue to reflect on my learning meant I got so much out of the course in the process. I would not have come this far and attained such amazing scores without the guidance and instruction from my tutor.
"The contributions made by members of the online cohort group gave me insight into many different educational settings internationally. Each course gave me the opportunity to acquire new understanding of leadership in a school and the discussions and debates provided an environment where several perspectives and approaches were considered and stimulated me to think about my own philosophy."
Balancing the demands of the programme with the day job was a challenge but proved good preparation for the real-life demands of school leadership, she says. "Staying on top of deadlines as well as crises management is a necessary part of the job of a principal and the programme gave us a snapshot of this," Eliz says.
The programme has helped Eliz through "a baptism of fire" in her new role. "NPQH has helped me so far and got me through the toughest times. Over the last few weeks, I've reviewed most of the modules we covered and used them to help me navigate tricky issues. I am so grateful I did the NPQH and pleased I chose Best Practice Network.
"NPQH has changed my perspective on leadership and helped me build my confidence."
To support international schools at this time we have a 10% NPQ disocunt in place for all international candidates.
Payment can be made in one lump sum or in 3 equal instalments spread over 6 months with the first instalment to be received just prior to beginning the programme. To pay by instalment, simply apply for NPQH and then send an email to cpd@outstandingleaders.org requesting to pay by instalment and we will invoice accordingly.
Find out more about NPQH and enrol here www.outstandingleaders.org/npqh-international