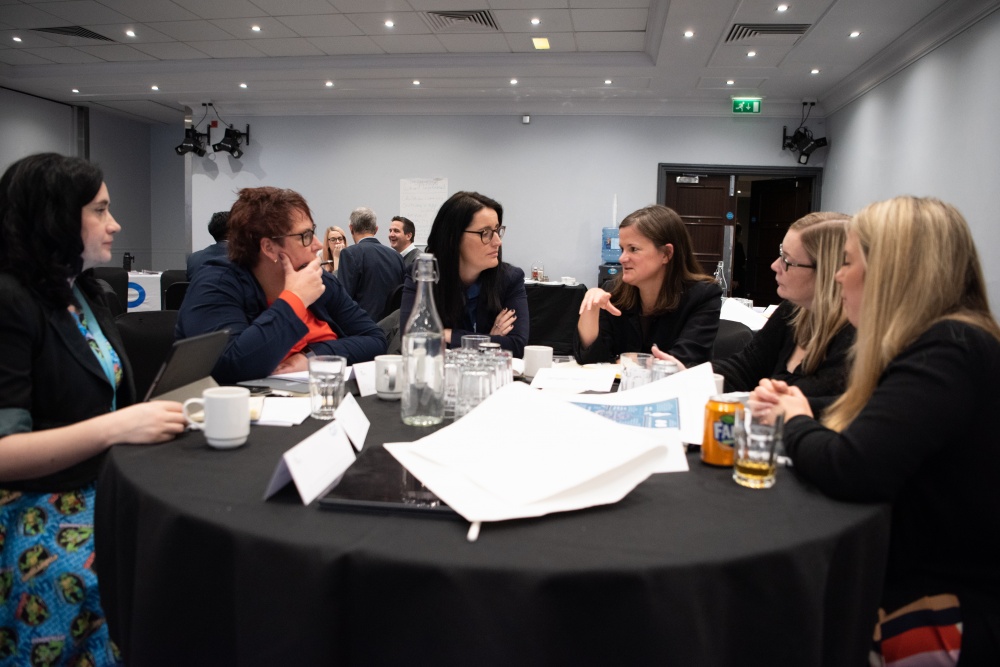 Lifting our heads – and joining the dots
A new era of strategic collaboration to deliver CPD for school improvement is in reach, delegates to Outstanding Leaders Partnership's first regional conference heard last week.
Representatives from OLP's growing partner network and other school and system leaders gathered in Warrington for the Strategic CPD solutions for local school improvement event, in which OLP leaders and partners shared their insights into the opportunities and challenges presented by the approach.
As one delegate put it, the opportunities created by partners joining up on a much wider regional level were many "once we lift our heads and start joining the dots."
Yvonne Gandy, director of NPQs at OLP, said that the organisation's approach to delivering professional development through a strong national network of partners had a number of strengths. These included regional collaboration and the possibility of working together to create clear career development pathways for candidates.
But there was a weakness of the school-led model in that it was still not mature, she said. While the school-led model did face a number of challenges, including the system's capacity to deliver professional development and school improvement, it did have intrinsic strengths, including the ability to innovate quickly and respond to school CPD priorities such as talent spotting.
Andy Hodgkinson, OLP's lead facilitator for partnerships, highlighted the work of educationalist Michael Fullan, who has characterised the current education system as being overloaded with multiple initiatives which had created silos, pointing out that it was inevitable that this would create constant churn.
Andy said this created a very complex system that might encourage schools to comply with government policy rather than innovate and be leaders. Embracing the latter was a key challenge for the system, he said.
The values underpinning successful strategic CPD collaboration were discussed by delegates during a break-out session. Delegates shared a number of key values, including trust and reciprocal relationships, a need for performance measures, honesty and a shared belief and will to succeed, and courage to be non-compliant. A key theme was that shared values were vital for partnerships and that these could not exist without a shared vision. Identifying need was also a key driver for effective collaboration, they agreed.
Klare Rufo of ALPSIT (Archdiocese of Liverpool Primary School Improvement Trust) outlined their approach to strategic CPD partnership across 184 Catholic primary schools in eight local authorities. ALPSIT has developed a local talent management strategy which is delivering real benefits, she said. Delegates heard that the approach placed the emphasis on school leaders identifying talent gaps in their schools and this created a pipeline of prospective leaders that were then developed through the NPQs.
Andy Moor, director of Ignite TSA and CEO of Holy Family Catholic multi-academy trust, said that any strategic CPD approach must enable partners to be innovative and optimistic. "In whatever system we design we need to ensure that we become those bright sparks, where we are radiators rather than drainers," he said.
Delegates discussed the barriers getting in the way of strategic collaboration for CPD. These included competition in the system, the disconnection between ideas and value for money and the need to show impact in the short term. One delegate also pointed to the increase in responsibilities for individuals in a system leadership position. "It seems that you are expected to have multiple roles the higher you go up in the system," she said.
Others stressed the importance of sharing data in one place so that partnerships can work together to identify the CPD and school improvement needs of schools. Close alignment of partners would also deliver benefits in avoiding duplication of effort, delegates agreed.
Feedback from delegates will inform OLP's ongoing work to help its partners develop a more coherent, strategic approach to supporting schools by working more collectively and creating more capacity.
We will be hosting a further event to bring together local partners and schools: in Milton Keynes on Thursday 26th March, as well as our main National event in Birmingham on Tuesday 16th June. Click here to register your interest in attending either event.