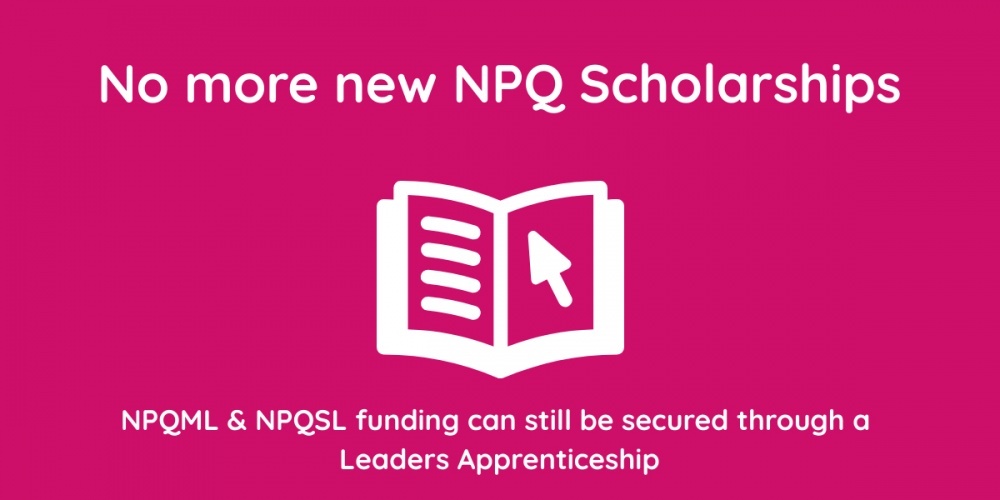 No More New NPQ Scholarships
It was officially announced on Tuesday 15 December that there is to be no more NPQ scholarship funding for the rest of the current NPQ contract. Over the past three years, candidates from across England have benefitted from NPQ scholarships and this has allowed us to bring our high-quality leadership CPD to thousands of schools nationwide.
We would like to extend our thanks to both the DfE, for making these scholarships available, and to all of the school leaders who took advantage of this opportunity and worked passionately and tirelessly to complete their NPQs - in doing so, candidates have not only improved their own leadership capacity but have impacted on the leadership and management of their own schools for generations to come.
Whilst this news regarding NPQ scholarships is indeed disappointing, we have taken a number of measures to ensure that our NPQs remain accessible.
Leaders Apprenticeships with NPQML or NPQSL
Funding for NPQML and NPQSL is now available through the Apprenticeship Levy. By mapping NPQML and NPQSL to the Operations/Departmental Manager (ODM) Standard, we have created a Leaders Apprenticeship that offers a funded pathway to a full NPQML or NPQSL, but with the added benefit of earning the ODM Standard and with the comprehensive wraparound support of an apprenticeship. Take a look at our Leaders Apprenticeship pages to find out more.
NPQ Price Freeze
We have made the decision to freeze our NPQ prices for the rest of the current contract to ensure that our standalone NPQML, NPQSL, NPQH and NPQEL qualifications continue to represent great value for money.
NPQ Payment Plans
Candidates and schools can now spread the cost of the qualifications. We accept payment by interest-free instalments that can be paid over 6 months to help spread the cost of the training. Contact us to find out more.