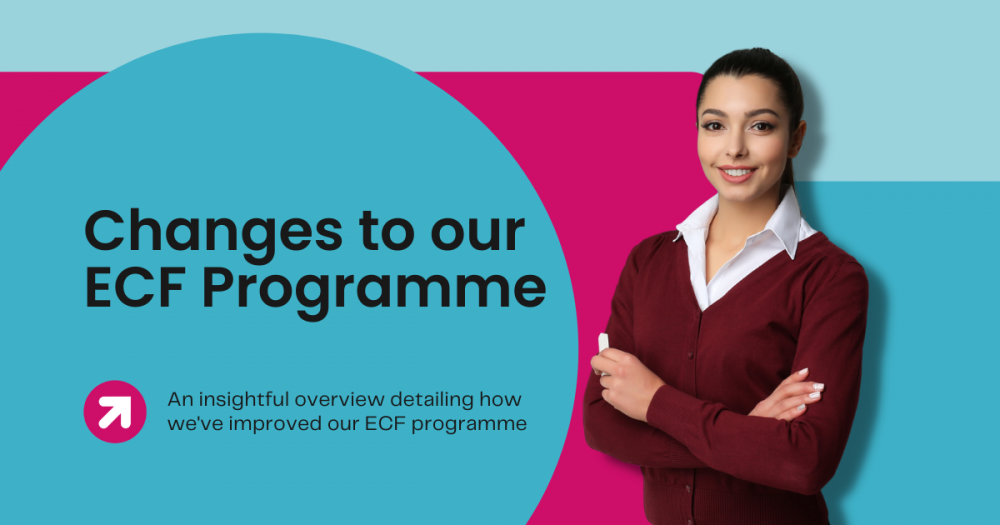 Changes to our ECF programme
You spoke, so we listened
Our Delivery Partners nationwide have been instrumental in supporting and guiding ongoing improvement in programme delivery and structure. Key to this has been the close relationship Delivery Partners have with their schools and the collaborative attitude of the schools and teachers involved in delivery.
Our ECF programme is constantly evolving and thanks to excellent feedback from Delivery Partners and their schools, we've made some changes to ensure that our programme continues to offer ECTs the best possible start in their teaching journey.
Changes made
The following table highlights the key changes that we have made:
| Suggestion | What we've changed |
| --- | --- |
| Induction Tutors needed support | Induction Tutor induction conferences to introduce the programme and what to expect |
| Schools/Induction Tutors needed to be able to see what their ECTs/ECMs were learning online | Gave Induction Tutors/Delivery Partners/Facilitators read-only access to the online learning environment, Canvas – to enhance understanding |
| Schools/Induction Tutors/Participants needed support with Canvas | Provided focused Canvas surgeries to demo the platform and answer questions |
| Schools needed greater visibility of how their ECTs/Mentors were engaging | Created a 'School's Dashboard' per school which enables the Induction Tutor to see the ECT/ECM's schedule for the year, progress made by the participants, FAQs, to make change requests (e.g. change of mentor, change of email address). |
| Mentors struggled with the frequency of the delivered sessions | For Cohort 2 – combined the Online Workshops and Peer-to-peer network events, reducing attended sessions by 1/3 across the year |
| Sessions scheduled for the beginning of terms were problematic | From September 2022 delivery windows have been re-scheduled away from term starts. Cohort 2 face to face sessions start in October |
| Zoom links end up in participant's junk mail, causing them to be mislaid | From September 2022 we will be using a system where participants can see their schedule as an online calendar, with any online session links imbedded – so they only need look in one central place |
What to expect for September 2022
Induction conference options (with links to register in advance) will be provided to ECTs and ECMs with their welcome pack, upon registration. There will be options to attend prior to the Summer holidays or in the first few weeks of the Autumn term – with a range of times including twilight sessions.
ECTs and ECMs will receive their schedule for the year in the first week of term (first face to face session takes place in October). Schools will be able to see their ECT/ECT schedules at the point they are added to a group – so potentially before the Summer
We're extremely proud of the strong relationships we have with our partners and schools and since our programme is constantly changing this is an ongoing process where we will continue to adapt to feedback on all of our programmes. This process offers fantastic peace of mind to partners and schools in the knowledge that the next generation of ECTs are in safe hands.